Mid October, the first weekend of hunting season and the larch trees are near their golden peak. Time to head east. Gary joined me for another trip to Ingalls Lake and a day of admiring the golden larch. With the government shutdown having closed all national parks I expected even larger than normal crowds. Since there is no hunting in national parks they are very popular during the October general deer season. I expected the lot to fill up very early. We met in Bellevue at 6:30 am. In the mountains we had a lot of fog and clouds. After Easton there was low fog but signs of clearing higher up. The NF Teanaway Road is a little rough but not in bad condition. My sedan had no problems. We arrived to find several open parking spaces. A number of cars had icy windshields. Looked like we would see campers in Headlight Basin. Barry and Suzanne arrived as we were heading out. They were going up Fortune Peak. It was 8:40 when we got started.
The trailhead is usually an icebox in October. As we gained elevation it warmed up a little. We did avoid the valley fog and low clouds Blue sky at the start. Last October I found blooming scarlet gilia and harebells along the lower trail. Not a one to be found this time. There trail was mostly bare up to near the Longs Pass trail junction. Some snow but not much. The start of the Longs Pass Trail was under a thin hard packed layer of snow. As we climbed into the open it was bare again. A few fast hikers went on by us. I was surprised to see several groups already coming down. We only found one tent left in Headlight Basin. To cover all bases we brought snowshoes and microspikes. The snow in the last mile was hard and somewhat icy from the overnight freeze. With poles we did not bother putting on the spikes.
We arrived at Ingalls Pass at about 10:15 am. There were already quite a few people there. Mt. Stuart looked great with a fresh coating of snow to highlight its rugged ridges. Fortune and Ingalls Peaks looked especially good with sunshine on fresh snow with golden larch in the foreground. The larch trees were golden but not real bright. partly it was the angle of the sun. Partly they were just not as eye popping as on some of my previous visits. We found a few green branches during the day but we may have been a few days past peak. Still, it was a very good display. Well worth the effort to hike on up. I have often seen snow on mid October at the pass but this was the most. The rock field that the trail traverses into the upper basin was all under snow. Not much sun on the north aspect in the morning so we put on microspikes. We left them on all day until we dropped below the pass on our way back.
At the pass I saw Leslie who I had not seen this year. The snow was firm enough to hold my weight most of the time. I did leave the packed path and managed to post hole almost to my crotch. The snow seemed to be about 30 inches deep. Leaving the path took us to the first grove of larch trees. Not many folks had gone that way based on the track. We were able to get behind some of the trees and get some back lighting. It helped but did not make the tree colors really "pop". For the next hour we just meandered around the upper basin. more off the track than on. Lots of nooks filled with small groves of larch. The small creek was not frozen. The meadow around it was under a few feet of snow. Small groups of hikers passed on by in a continuous stream. I checked online and was happy to see that there were no Mountaineer or Meet Up groups scheduled for the weekend. Just one Mountaineer scramble of South Ingalls and I never did see them or any group larger than half a dozen. Much nicer than the groups of 20+ and 14+ we saw on this trail two years ago.
At about 11:50 am we headed over towards Ingalls Lake. The track was easy to follow in the snow. A few bare rocky spots but not long enough to take off the microspikes. The current route turned uphill before the summer trail does. A little shorter and steeper route to the lake. It worked out very well. We arrived to find the expected crowds though folks were spread out well. Nothing like the nearly 100 folks seen two years ago. Leslie was there and I met Hermes from NWHikers for the first time. Always fun to put a face to an online avatar. The view of Mt. Stuart with Ingalls Lake completely surrounded by snow was very beautiful. A few small clouds fluttered around the summit of Stuart but the sky was mostly clear. A little breeze was quite cold but for the most part is was calm and comfortable at the lake.
Soon enough we headed down. It took a little patience at first as hikers coming up blocked our way down. We continued below the current track and picked up footprints that headed to the lower route through Headlight Basin. We too this route back on a previous larch hike and chose to do it again. Having a GPS with the summer trail mapped made it easy enough to find our way. The snow was now not well packed and we conferred before choosing to stay with just microspikes. There were footprints as well as a snowshoe track. We did sink in some but decided the saving the weight of the snowshoes was worth some post holing If it was any softer I would have donned the "shoes". Lower down in the basin we did see some green larch and some more colorful ones when back lit. This was more in a larch forest than the more isolated trees in the upper basin. Not better or worse just different. In hindsight I'm glad we did the loop and saw all the larch.
We did meet several groups in the lower basin. There was far more solitude than up above. Soon enough we worked our way back to near Ingalls Pass. Above us a steady stream of hikers traversed from the upper basin to the pass. Back at the pass we had one last break and just enjoyed the beauty of the area. I hated to go back down. It gets dark early now so down we went. Microspikes helped near the top but before long we were back to boots. The trip was done by many people without snowshoes or microspikes. They were not necessary but the spikes did help on the icy and slushy spots. The trip down went by fast. By 4:15 pm we were back at the car. On the drive out of the lot I did not count the cars but they were still parked after we passed the permit reminder sing a quarter mile down the road. There must have been at least 50+ cars parked outside of the lot.
It proved to be a fantastic day of hiking. Very good if not spectacular larch trees, blue sky, and a fresh coat of snow on all the peaks and the ground. Lots of people but it never seemed all that crowded. The wind stayed light and it was warm enough for lots of standing around photographing. I had a great time. This will probably be my only larch trip this season and it was a good one.
| | | | | | |
| --- | --- | --- | --- | --- | --- |
| Shadow On Esmerelda | West Esmerelda Peaks | Fortune Peak | Esmerelda & Hawkins | Mt. Stuart From Pass | Ingalls Peaks & Basin |
| Heading For Larch | Distant Peaks | Icy Boot Path | Ingalls Pass | Larch Grove | Stuart & Larch |
| Ingalls Peaks | Rock & Snow | Back Lit Larch | Larch Near Pass | White, Blue, & Gold | Snags & Larch |
| Shadows & Larch | Bare Ground In Meadow | Spread Out Larch | No Tracks | Larch Needles | Gary At Work |
| Framed Mt. Stuart | More Larch & Stuart | Larch On Bench | Headlight Basin | Beautiful Snowscape | Gary On Route To Lake |
| Ingalls Lake | Clouds To The South | Into Lower Basin | Creek | Evergreens & Larch | Larch & Sky |
| Stuart Blocked By Larch | Gary & Larch | Green Larch | Green Background | Dark Blue Sky | Ingalls Pks From Basin |
| Heading To Pass | Crooked Larch | Larch & Peak | Closing Loop | Last Shot Ingalls Peaks | Upper Basin |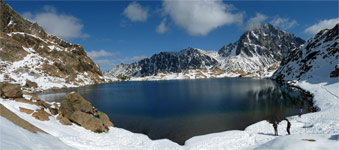 Ingalls Lake Panorama
Click on thumbnails to get larger pictures.
Trips - 2013
Home