With five to ten feet of new snow in the mountains in the last week Gwen and I chose a lowland hike. The highest point is over 2000' at North Butte but the starting elevation is only 700' and the while route is with in a few miles of salt water. There was a little morning snow near Bellingham. I figured that we would be above the rain level all day. I figured correctly. Gwen's friend Carianna lives near the trailhead and she signed on the evening before. Eric was running a short race in the morning nearby and mentioned he would try to meed us along the way. I picked up Gwen on my way north and we exited I-5 at Alger and took a short detour to get Carianna. There was a little snow at her house. We headed back to Barrel Springs Road and soon were on the dirt road to the upper Lily Lake Trailhead. Some snow alongside the road but an easy enough drive. We were packed up and ready to go at 9:30 am.
I did this loop back in mid November. the whole way was lined with mushrooms at that time. This time the theme as snow. Snow on the road/trail as we passed the gate and headed uphill. I stopped at the Mt. Baker viewpoint and had exactly the non view I was expecting. It was around 30 degrees but with no wind it was not too cold. We had a little light snow falling. That continued the entire hike. After about a mile we left the road and headed up the Alternate Incline Trail. There was just enough snow to highlight the brush and trees but not enough to slow us down. Just about perfect winter conditions.
Not much snow made it through the trees as we climbed up the trail in forest. There were no footprints since the recent snow fall. To problems with packed down and icy snow. We hiked up to the junction with the Pacific Northwest Trail (PNT) and turned right. In just a few minutes we arrived at Lizard Lake. The lake is frozen over though barely. We hiked to the middle of the lake to get photos and enjoy the view. He headed back and detoured to the head of the lake for more views. There were two tents. One head poked out and said hi. They were the first people we had seen.
Rather than take the PNT around to Lily Lake we took the shorter connector trail. As I mentioned in my November report this way trail has been recently built into a real trail. The end is still not marked yet. Part way along the connector we took the uphill trail to North Butte. Now He had footprints in the snow. One set going up and dog prints too. The snow was a little deeper above 2000' but still no problem to hike in. We headed over to the Mt. Baker viewpoint and found the lone hiker with two dogs. The pups seemed to be enjoying the snow. He left as we arrived. Not quite the nice view I had in November. No view at all. Gwen and I made the short climb to the top of North Butte. The rocks were all snow covered and it was slick. No views, not even down to Oyster Dome. There was a little wind and we did not stay long.
Next we headed on down to Lily Lake. There was a little mud as it was not cold enough to freeze the muck. At the outlet we stopped for some lunch. It was about 11:45 am. At the campsite we were able to get out of both falling snow and a little wind. After a few minutes I was ready to either put on my puffy layer or get moving. We started moving. On the short trail to the next junction we passed a beaver dam. The DNR folks took it out several years ago. It's back. We stopped at the junction to figure whether to head down or go over to Oyster Dome. There would be no views and a slick trail where many boots would have packed down the thins snow cover. Oh, what the heck. We headed for the dome. After seeing a skunk cabbage last week I looked carefully in the big skunk cabbage swamp along the trail. Lots of snow but no yellow showing yet. We soon met a group of four hikers heading in the opposite direction. Still not crowded.
The trail descends gently and meets up with the very popular trail that comes up from Chuckanut Drive. As expected a few tracks suddenly became a whole lot of tracks. We dropped down to cross the creek and then began the short but steep climb to Oyster Some. It was slick but we had no falls up or down. At the top there were a few hikers. Great views of clouds. Not much else. Our stay was pretty short. We did get a message from Eric that he was coming up the Lily Lake and Max's Shortcut trails. With some breeze it was cold at the overlook. We headed down passing several groups including one or 7 or 8 hikers. They were nearly half the people we saw all day.
I like the upper Lily Lake Trail. I had only gone down via Max's Shortcut and the connector to the Lily Lake Trail on one occasion. Since Eric was coming up that way that made it twice. It was almost all downhill now. In a few open spots in the forest the snow was up to about four inches deep. deeper put still not deep enough to hinder travel. Some neat sights on this trail. There is a big overhanging rock where folks have placed sticks that seem to be holding up the rock. One pond was covered with ice and snow and almost appeared to be black and white. We soon met Eric. I have spoken with him several times at hiking socials but this was the first time we had hiked together. At the next junction we turned left and headed for the Lily Lake Trail. Most junctions on the mountain have signs. For some reason both ends of this connector trail have no signs. I'm sure lots of folks have taken wrong turns.
We were passed by a mountain biker pedaling on the snowy trail. We met a group at the Lily Lake junction and were able to point them in the right directions. Now we just had a little over a mile to go. Lower down we had some bare trail in the forest. At the bridge there was about 2+ inches of snow on the handrail. We soon left the trail for the short road walk back to the cars. It was still lightly snowing just as it had been all day. There was less snow on the car than I was expecting. We said goodbye to Eric and headed back to Carianna's home. The roads were still bare. Other than the rain most of the way home it was an easy drive.
This is a favorite low hike near the lowlands. Trillium, wildflowers, and skunk cabbage in spring. Great mushrooms in the fall. Nice views from North Butte and Oyster Dome on a clear day. Snow in the winter. This was a snow day with just enough to really highlight our surroundings. Add in good company from Gwen, Carianna, and Eric and it was a fine day for a winter hike.
| | | | | | |
| --- | --- | --- | --- | --- | --- |
| Snowy Trailhead | Waterfall | Snow On Road | Mt. Baker View? | Snowy Highlighting | Mossy Stump |
| A Little Deeper | Lizard Lake Sign | Lizard Lake | Campers | Moss & Snow | North Butte View? |
| Lily Lake | Boardwalk | View Down Lake | Beaver Dam | Bottleneck | Route To Dome |
| Oyster Dome View? | Gwen At Dome | Heading Down | Max's Shortcut Trail | Pond Beside Trail | Watch Out Gwen! |
| Snowy Ferns | Snowy Bridge | More Ferns | Bare Trail | Narrow Brown Line | Cathedral Roof |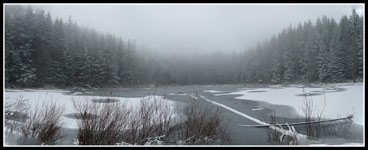 A Panorama Of Lily Lake From The Outlet
Click on thumbnails to get larger pictures.
Trips - 2014
Home